This window contains various application settings.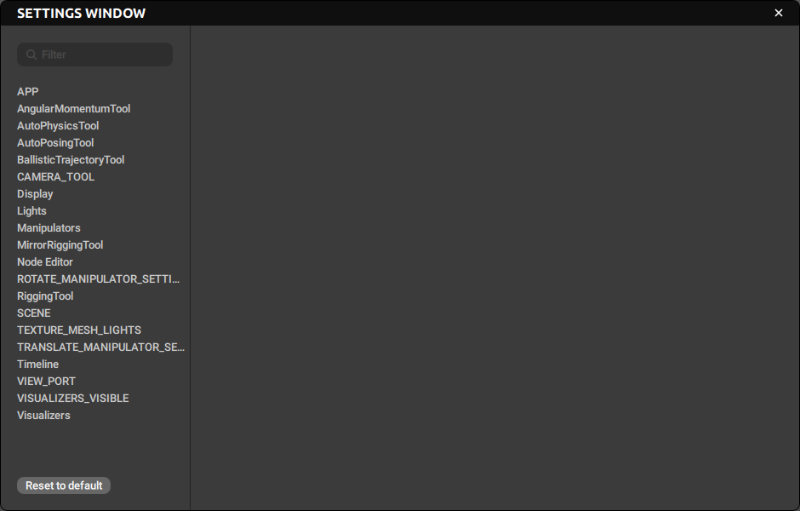 To open it, select Settings window from the Settings menu

The settings are separated into several drop-down lists:
APP - general program settings: autosaving, animation baking, interface theme etc.
AngularMomentumTool - settings for the Angular Momentum instrument.
AutoPhysicsTool - settings for the AutoPhysics feature.
AutoPosingTool - the color scheme used for the AutoPosing tool
BallisticTrajectoryTool - the appearance of the Ballistic Trajectory tool: colors, line thickness etc.
CAMERA_TOOL - sets the offset for the Camera Tools and defines whether the camera should use world coordinates
Display - display resolution, scale, dpi etc.
Lights - settings for environment lighting
MirrorRiggingTool - defines parameters used for distinguishing left and right limbs; used for the Mirror Create option in the Rigging Tool
Node Editor - settings for the Node Editor.
Outliner - defines if Prototyoe Objects should be shown in the Outliner window.
ROTATE_MANIPULATOR_SETTINGS - specific settings for the Rotate manipulator.
RiggingTool - settings for the Rigging Tools.
SCENE - settings for the Scene: iterations used for Interpolation, average model size and so on.
TEXTURE_MESH_LIGHTS - settings for environment lighting used for rendering textured models
TRANSLATE_MANIPULATOR_SETTINGS - the settings for the Translate manipulator.
Timeline - the color scheme and the general appearance of the Timeline part of the UI
VIEW_PORT - settings for rendering objects in the Viewport window such as antialiasing, field of view, etc.
VISUALIZERS_VISIBLE - settings for enabling and disabling the rendering of various objects and tools in the Viewport window.
Visualizers - color schemes for various parts of the scene
Default Settings
You can restore default settings by either
Selecting Reset all to factory settings from the Settings menu

Clicking the Reset to default button in the Settings window