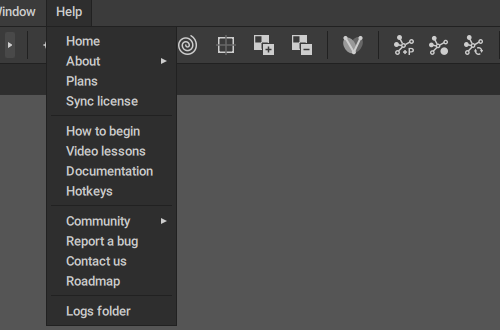 This menu provides links to various sources of information regarding Cascadeur.
Home
Opens Cascadeur splash screen, where you can find example scenes, links to tutorials and user manuals and so on.
About


This section contains version data.
Cascadeur
The current version of Cascadeur.
Qt
The version and the licence information for the Qt library used in Cascadeur.
FFmpeg
The version and the licence information for the FFmpeg library used in Cascadeur.
FreeType
The version of the FreeType library used in Cascadeur.
Plans
Opens the licensing plan page.
Sync license
This option is used to sync Cascadur with a newly acquired licese plan.
How to begin
Opens Cascadeur tutorials for the beginner users.
Video lessons
Opens the YouTube channel containing Cascadeur video tutorials.
Documentation
Opens Cascadeur user manual.
Hotkeys
Opens the list of main hotkeys used in the program.
Community


This section contains links to Cascadeur user communities:
Forum
Official forums.
Discord
Official Discord channel.
Youtube
Official YouTube channel.
Twitter
Official Twitter account.
Facebook
Official Facebook page.

Report a bug
Opens a form for bug reporting.
Contact us
Allows the user to send a feedback mail to the Cascadeur development team.
Roadmap
Opens Cascadeur development roadmap.
Logs folder
Opens the folder containing event log files.