Table of Content

Windows
1. Download the archive containing program files
2. Once the download is complete, open the archive using any archive manager.
The archive includes two directories: cascadeur (program's main folder where all the files reside) and scenes (where example scenes are stored). Extract them to any place on your hard drive.
After this, the installation is complete, and the program is ready to launch.
Ubuntu
(TODO)
File Structure
After installation is complete, all program files will be placed to a newly created folder, named Cascadeur\ by default
Note: During installation, you can specify another name for the main folder; in this case, that name will be used instead of the default one
Program data is stored in a dedicated folder at the following location:
Windows: C:\Users\<user_name>\AppData\Local\cascadeur
Ubuntu: /home/<user_name>/.local/share/cascadeur
All of the program settings are stored in several .ini files placed at the root of this directory. It also includes a number of folders:
autosave stores backup save files for recently used scenes. Autosaving is perfored automatically, its frequency can be adjusted in Cascadeur's Settings window
cache stores cache files
file_preview contains .png images depicting recently used scenes (these images are seen on the splash screen under the Recent Files tab)
logs contain program log in the form of a text file
Note: If these files are deleted, all user settings will be reset (missing files are recreated on starting up the program, but with default settings)
Known Issues
If you are running Cascadeur on a laptop, use dedicated GPU instead of an integrated one.
Running Cascadeur
To launch Cascadeur, open programs's main folder and double-click exacutable file named cascadeur:

After this, main program window should appear: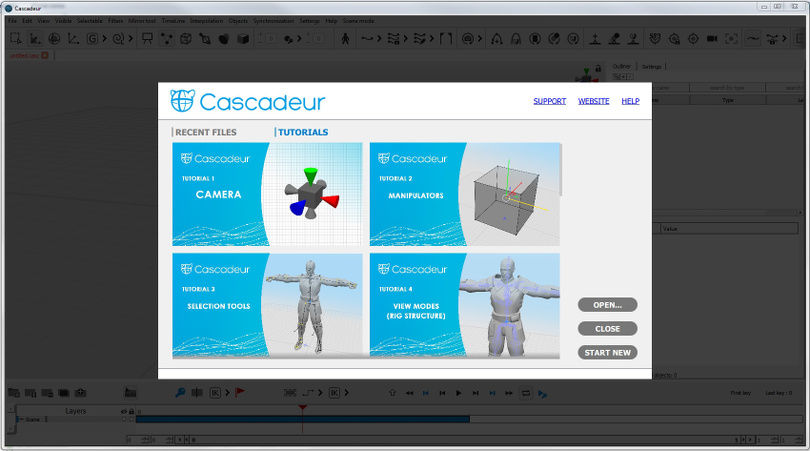 Now, you can start working with Cascadeur
See Also