Cascadeur 2022.2EA improves AutoPosing, AutoPhysics, Secondary Motion and Quick Rigging!
Sep 15, 2022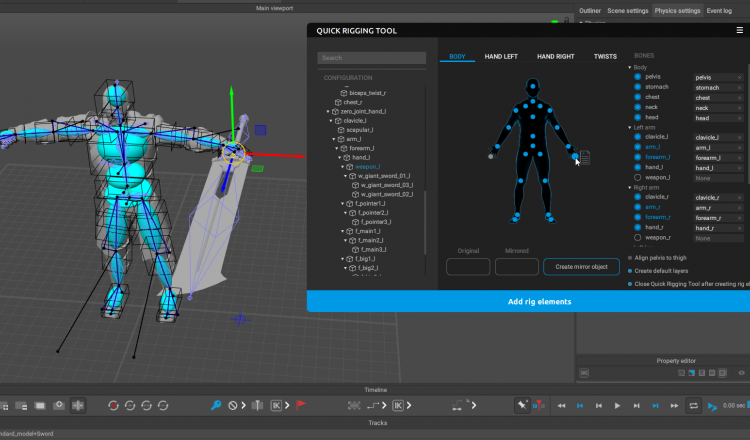 With Cascadeur version 2022.2EA we are releasing the last planned feature update before the official release version. The new update focuses on improvements to Cascadeur's most popular AI tools: For example AutoPosing can now include the character's hip and neck in its pose predictions. In the AutoPhysics module, the Secondary Motion tool has been reworked from the ground up, and now runs much more stable than the previous version. Among numerous other improvements, the AutoPhysics tool now also includes an option to keep global rotation of any body parts.

Further highlights in Cascadeur 2022.2EA:
Support for weapons and twists in the Quick Rigging tool
Cycles with offset added
New interpolation option "Global Rotation", additional to IK and FK.
The Quick Rigging now offers default templates for character creator
Twist support for cases when twists are in the hierarchy (such as Daz3d Characters)
Root constraint improved, added a new script for exporting with T-pose root
...read the full release notes here!

Particularly for users of our Pro version, there is now also the possibility to customize the program layout, which has been requested by many users for a long time, in order to better adapt the user interface of Cascadeur to their own preferences.

Speaking of the Pro-Version: Since no further Early Access version will be released after version 2022.2EA, the 25% discount promotion is also coming to an end. So if you want to get a lifetime 25% discount on all future Cascadeur versions, you should definitely get it in our store before the release of the full version.

As with every major feature update, we have produced a teaser video with all highlights of today's update:

As the Early Access period comes to an end with this update, we would like to take this opportunity to thank all Early Access users for their support over the past 3 years!
Over 100,000 participants have made Cascadeur's Early Access period an exciting and eventful time for us. With the release of the full version, a new chapter in the life cycle of Cascadeur will soon begin, and we will see how well our product holds up in the highly competitive animation software market. Don't forget: With a Pro subscription you can actively support the further development of Cascadeur.