Cascadeur's release version is now available!
Dec 14, 2022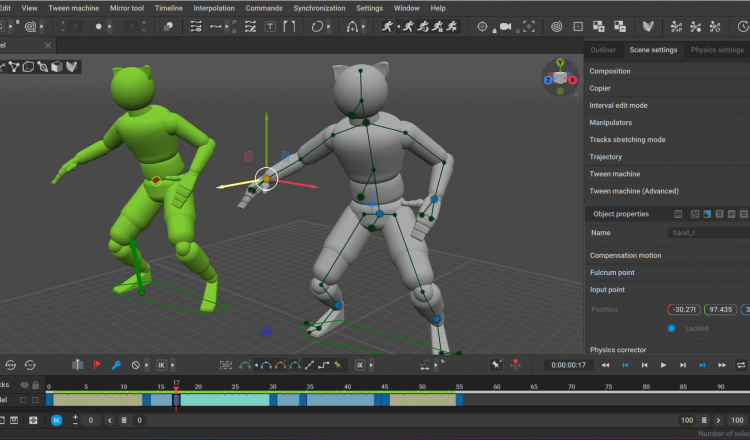 We are excited to announce that the full version of our 3D character animation software Cascadeur is now available to download ! The official release of Cascadeur is the culmination of almost three years of beta testing, in which over 100,000 professional and hobby animators from more than 50 different countries participated. It has been in development for well over 10 years.

With Cascadeur's launch, Nekki empowers both game and movie animators to create physically accurate animations much easier and faster. Never before making animation from scratch or editing existing ones has been so easy and fun.Thanks to its AI-assisted tools, creators can make key character poses really fast, instantly see physically accurate results and adjust secondary motion. All while retaining full control over their animation at any point!

Nekki accompanies today's product launch with two new videos. The Product Demo Video is a 5-minute demonstration of Cascadeur's main features and physics tools, while the Tutorial Video teaches new users how to work with Cascadeur's accelerated animation pipeline.



Even as a newly released software, Cascadeur is already a widely successful production tool: Nekki's in-house action game series Shadow Fight owes its cult status among nearly 500 million gamers not least due to its smooth and realistic fighting animations. Also, the great interest from the game and VFX industry and the very positive user feedback during the beta and early access phase makes us confident that Cascadeur will soon be counted among the must-have tools for 3D animation.

For most users, the entry into the world of AI-supported, physically accurate keyframe animation is completely free: Individuals and indie developers with low sales revenues can simply download Cascadeur Basic, a comprehensive character animation package, directly from cascadeur.com.Larger teams, on the other hand, can subscribe to Cascadeur Pro to gain access to additional functions, unlimited commercial use and responsive user support starting at $25 per month. Users who opt for a Pro subscription by December 31 will even receive a lifetime 25% discount on it.

Today's release also represents a major update over the previously distributed Early Access version 2022.2.2EA. In addition to a thorough revision of the UX and UI, the two most important AI tools AutoPosing and AutoPhysics received the final touches.
Highlights of release version 2022.3:
Optimized user interface for an easier and faster workflow
Improved AutoPosing with new spine controls and overall better behavior
AutoPhysics now shows more realistic results in animations without jumps
Angular momentum smoothness completely reworked
Revised UX logic for AutoPhysics
Plus many other improvements, such as stretched frames, manipulator sensitivity updates, better clamped interpolation & weapons slots in the Quick Rigging Tool!
...read the full release notes here!

Firstly available for Windows and Linux desktop systems, Cascadeur requires only a medium hardware configuration and can thus even be used productively on modern laptops. The team will also start developing a Mac version soon, but a specific release date has not been announced yet.

Last but not least we are happy to announce the plans for Cascadeur in 2023: Besides the almost finished Hands AutoPosing tool , the further expansion of the AutoPosing and AutoPhysics tools are on the to-do list for the next updates. Also, more interaction of characters with the environment, a convenient control picker, and - in the medium term - a pose library.