Cascadeur reports successful Early Access launch and announces new funding of $ 1.5 million
2.6.2021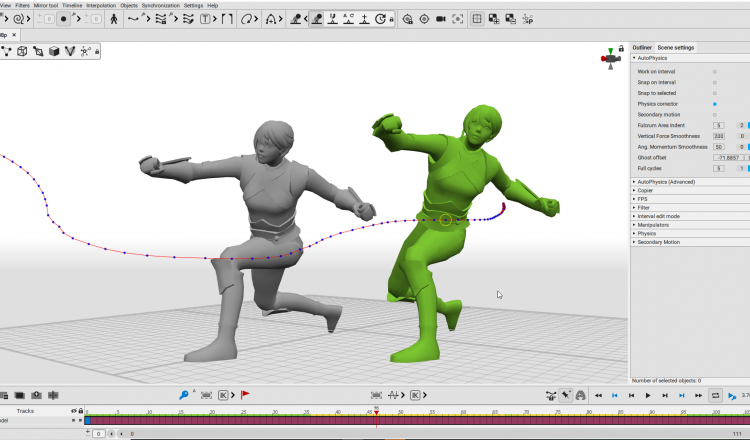 Company Press Release - Two months after the Early Access launch of Nekki's character animation software Cascadeur, its user base has increased to more than 80,000 animators. Numerous international animation media reported on the event - and many CG and VFX companies from North-America, Europe and Asia have already opted for an annual Pro subscription of Cascadeur.

Inspired by this first success, Cascadeur's parent company Nekki approved a budget of $ 1.5 million for the further development. The company plans to achieve two particular milestones until the release in 2022: On the one hand, the AI-supported and unique Deep Physics tools of the software are to be further improved, and on the other hand, the functional scope of Cascadeur shall be expanded by additional animation software standard tools. The team of currently 25 developers shall therefore grow to 30.

Dmitry Terekhin, founder of Nekki, explains his motivation for the funding: "I believe that AI is a top future technology. It will eliminate the boring routine and make 3D animation easy, fun and available for everyone. With its new Deep Physics tools Cascadeur can make a significant contribution to this development. Our aim is to move the gaming industry one step forward, by making realistic and cool animation accessible for beginners as well as professionals. This is why Nekki is happy to provide the new funding for a further steady growth of the project. "

Under the keyword Deep Physics, Nekki summarizes its neural network based AI tools that make certain tasks in the character animation process much easier to do - or even largely automate them.
Supported by the finished AI tools, the user will be able to concentrate on creating expressive character poses, while the software predicts the intended movement sequences and suggests a physically correct animation. Nevertheless, it will be guaranteed that Cascadeur will not restrict the creative freedom of the user in any way. He always retains control and decides whether - and to what extent - the AI ​​automation will actually be applied on his animation sequence.

Besides these enhancements to Deep Physics, the new funding will also be invested in the development of standard animation software functions. First of all, this means adding a graph editor, Python scripting and animation loops.
It is also planned to improve the UI / UX, which will include the ability to customize the layout and the appearance of all tools. Nekki's longer term plans include face rigs, adding blendshapes, skinning and a Mac OS version.

The limited Early Access offer is still available. Instead of the targeted price of $ 300 per year for the Pro version, early adopters currently only pay $ 150 per year- for an inexpensive entry into the world of physics-based character animation, one year ahead of Cascadeur's official release.
Besides that Nekki also offers Cascadeur Basic for free download for private individuals and companies with lower income.
Visit our store page to compare the plans !