Today's Most Popular Animation Software
May 11, 2021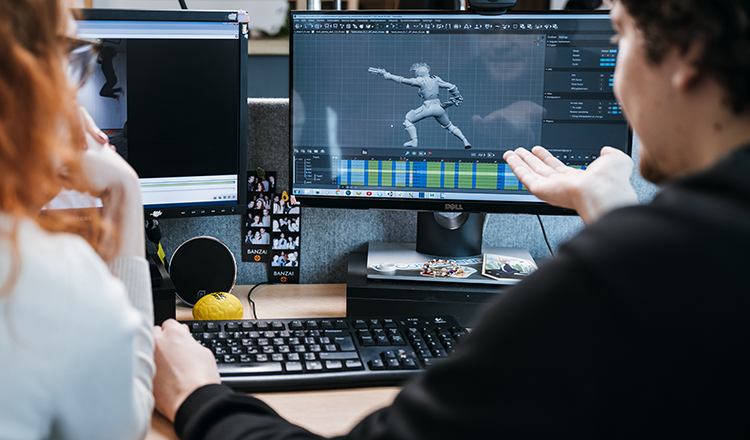 A person who makes a decision to plunge into the exciting world of 3D animation is faced with a wide choice of software. There are many animation programs in the industry at the moment, each with its own pros and cons depending on the task that you need it for.
In this article, we want to list some of the most popular 3D animation software and describe features that make them useful for various types of projects.
1 - Highly specialized 3D animation software
This type of specialized software does not have tools for the complete animation pipeline, but offers some unique features instead that can be useful in specific cases.
Cascadeur
Site: https://cascadeur.com/
OS: Windows, Linux
Price: Free basic version, $ 150 per year for Pro License




Cascadeur is a software for creating realistic physics-based animation and contains most of the tools an animator needs. A model is controlled using a flexible fullbody IK system, where all parts are interconnected. The unique physics tools of the program guide an animator towards the most realistic result, providing creative freedom and physical correctness at the same time. The user-friendly autoposing tool greatly simplifies the work with setting a pose and appeals to beginners.

Pros:
Physics-based tools for realistic animation
Dynamic pivot
Autoposing tool, based on neural networks
Easy copy-pasting
Object tracking
Trajectories visualization
Detailed online documentation and tutorials
Active support in Discord channels and forum
The beta-test version provides many useful tools, but there are functions that haven't been implemented yet (such as graph editor and blendshapes, for example). The ability to work with complex rigs is also limited at the moment. But the software is in active development and is already making it possible to create high-quality animations, as well as polish the existing ones.


iCLone
Site: https://www.reallusion.com
OS: Windows
Price: $ 199 for the perpetual license




The software provides a rare opportunity for real-time animation that will interest absolute beginners. In addition, it offers keyframe animation - the classical animation method.

The program supports LUA Script for controlling props, but this limits the possibilities of using the scripting language. It should also be noted that a significant part of the program's functionality is available only after purchasing additional plugins (3DXchange, Curve editor, Avatar Toolkit, etc.)

Pros:
Low entry threshold
Many ready-made assets
Simple automatic rigging system
Ability to record simple mocap data using kinect and facial mocap on iPhone
Rich possibilities of working with the camera: Adjust the focal length, detailed blur adjustment, bokeh effect, etc.

Although iClone offers a great opportunity for keyframe animation, without twin machines and trajectories visualization this feature can be too limited for some animators. There is also only one rig you can work with. But despite these limitations, iClone is a great choice for solo-animators, indie developers and beginners in 3D animation.


Daz Studio
Site: https://www.daz3d.com
OS: Windows, macOS
Price: Free




Popular among 3D artists, this software provides the widest library of ready-made assets for purchase and an impressive range of photorealistic rendering options. Plus, there is a convenient DAZ Bridges system to exchange files with other 3D packages.

Pros:
Low entry threshold
Huge store with assets
Simple rigging system
Good rendering
Although it has a modest set of animation tools and doesn't support complex or custom rigging, Daz Studio is often used by 3D artists and indie developers. It allows you to work with ready-made animation assets and set poses. It is also widely used in digital art creation as a prototyping tool for subsequent processing of the result in Photoshop.


Akeytsu
Site: https://www.nukeygara.com
OS: macOS, Windows
Price: from $ 14.99 / month for the indie version




Akeytsu is a character animation program that combines the simplicity of an interface with a set of serious tools. With their help, you can quickly create a joint skeleton, distribute weights and get a convenient rig. It supports animation retargeting, dynamic parenting frames, plus a built-in twin machine.

Pros:
Great for working with one monitor
Customizable interface
Convenient authorization system
Convenient skinning
Akeytsu doesn't support complex rigging and scripting languages ​​to create third-party plugins, but it will work great for animating humanoid characters in projects where there are no special requirements for the rig.
2 - Multipurpose 3D animation software
This type of software provides all the necessary functions needed in a complete pipeline of games, movies and cartoons creation. They usually support procedural and polygonal modeling, rigging, animation, lighting, texturing, and rendering.


3ds Max
Site: https://www.autodesk.com/products/3ds-max
OS: Windows
Price: $ 205 / month




3ds Max is one of the very first programs for working with computer graphics - its first version was released back in 1990 under the name 3D Studio DOS. It provides ample opportunities for 3D modeling, rigging, animation, and architectural visualization. A great advantage of 3ds Max is that it's synced with other Autodesk suites, making it easy to exchange files between programs.

There are 2 main systems for rigging and animation in 3ds Max:
Biped . This system offers ready-made humanoid skeletons that bind the body to the skeleton using modifiers. It's an old system but it is still commonly used since there are so many library models equipped with Biped skeletons.
CAT (Character Animation Toolkit) . One of the best systems for character animation that allows animating any type of skeleton. It provides a large number of ready-made skeletons - from spiders to dragons, and makes it easy to create your own. Plus, there is snapping to the surface function, which allows all skeletons to walk on rough terrain.

Pros:
Customizable interface
A library of ready-made animations
Convenient sync with Autodesk packages and third-party applications
Additional plugins
Steady regular updates
A huge database of learning materials & articles
Active community
It can be a good choice, if you don't need node architecture or Python scripting, and if the price is within your budget. In general, 3ds Max is quite popular among 3D modelers and architectural visualizers, but not so much with animators. While this software allows you to solve most of the tasks for an in-game animation, film and TV-series animation studios generally use other programs.
Maya
Site:
https://www.autodesk.com/products/maya
OS: Windows, macOS, Linux
Price: $ 205 / month
Many animators consider Maya to be an "industry standard". The program provides ample opportunities for modeling, rigging, animation, and rendering. Plus, the lately added functions for creating visual effects allow Maya to even compete with Houdini.
Pros:
Lots of learning materials and training schools
Links with other Autodesk packages
Wide customization options
Node architecture
Support for third-party plugins Mel and Python scripting languages
Opportunities for complex rigging
Built-in system for auto-rigging and retargeting human IK
Long-term version support
To fully unleash its potential, it's best to make use of many third-party scripts and plugins. They are easily available though, so if you can afford to spend some time and money into learning this animation program, it can be a worthwhile investment.
Maya has long established itself in the market as an excellent software for 3D animation and is used by most of the famous animation studios. This is partly due to the convenient architecture of the program, which allows you to assemble a set of functions for your particular needs like with the constructor. However, the project is very large-scale, and updates are extremely rare, which allows competitors to implement some features much faster. This software is best suited for animators in large studios with an established pipeline.
Blender
Site:
https://www.blender.org
OS: Windows, macOS, Linux
Price: Free, but paid scripts
Blender is one of the fastest growing 3D softwares. It's suitable for 3D modeling, rigging, animation, and VFX creation. With its open-source code, Blender allows creating various kinds of plugins, which was the key to its successful and dynamic growth. So even if it doesn't have a tool that you need, you can always program it yourself.
Pros:
Fast updates
Free
Lots of plugins
Wide customization options
Active community
Many learning materials and videos
Open-source
Opportunities for advanced rigging
Long Term Support (LTS) added in 2020
Blender has all the necessary animation tools, some of which are even more convenient than their counterparts in other programs. It is especially worth noting the Grease Pencil, which is useful for creating storyboards and prototyping, functional alternatives of which are still difficult to find in other applications.
It has some issues with .fbx and compatibility, plus there are fewer schools that teach it, and it is not actively used by large studios, but Blender remains popular with freelancers or small indie teams.
Cinema 4D
Site:
https://www.maxon.net/en/cinema-4d
OS: Windows, macOS, Linux
Price: $ 94 / month
Produced by Maxon, a company with more than 35 years of experience in computer graphics, Cinema 4D is a popular animation software among 3D artists, as it is easy to learn and is known for its versatility. It supports various types of 3D modeling and creation of physical effects using MoDynamics.
Pros:
Supports all popular file formats
Custom plugins and modules
Python support
Simple and intuitive interface
Fast render
Very stable
The ability to rotate by quaternions
Cinema 4D is a great solution for motion designers, but character animation tools, such as Graph Editor, are not always convenient for the animators. You'd also have to use a different software for complex rigging. Still, it's a great software for both beginners and professionals, who need flexibility in their workflow and appreciate well-designed interfaces that can be easily customized.